Superdry
Lumberjack Twill Shirt
Superdry men's Lumberjack twill shirt. The definitive lumberjack shirt from Superdry. Classic twill fabric teamed with Superdry design, this shirt features twin chest pockets, Superdry branded buttons, a pocket logo patch and a Superdry metal logo badge on the back
Size & Spec
Delivery & Returns
| Size | chest |
| --- | --- |
| small | 36.0" (91cm) |
| medium | 38.0" (97cm) |
| large | 40.0" (102cm) |
| x-large | 42.0" (107cm) |
| xx-large | 44.0" (112cm) |
Materials & Fabrics
Colour:

BOOTLEG RED CHECK

Material:

cotton 100%
Cleaning & Care
Wash:

machine wash - cold (30°C)

Bleach:

do not bleach

Dry:

do not tumble dry

Iron:

iron - medium

Dry clean:

do not dry clean
Item Code: 010106130003
Delivery
Domestic
| | | | |
| --- | --- | --- | --- |
| UK Standard 48hr | Monday - Saturday | | Free |
| UK Next Day | Monday - Saturday | | £3.95 |
| UK Next Day Pre 12* | Monday - Friday | | £6.00 |
| Collect+ 72hr | Monday - Saturday | | Free |
| Click & Collect 24-48hr | Monday - Friday | | Free |
| Weekend order / Monday Delivery | Saturday - Sunday | | £3.95 |
*Service only available for weekday delivery
Additional information can be found within the delivery section
International
| | | | |
| --- | --- | --- | --- |
| Europe | | | |
| Standard | Within 2 - 6 working days | | Free |
| Express | Within 2 working days | | €7.50 |
| North America | | | |
| Express | Within 2 working days | | Free |
| Rest of World | | | |
| Express | Within 5 working days | | $18 |
* Some delivery charges show in local currencies at the checkout
Returns
Please return your item(s) to us along with a completed returns form. You may also return items to all UK stores. For more info, see return in branch. Please ensure items are in their original condition. For more info, please see our returns policy.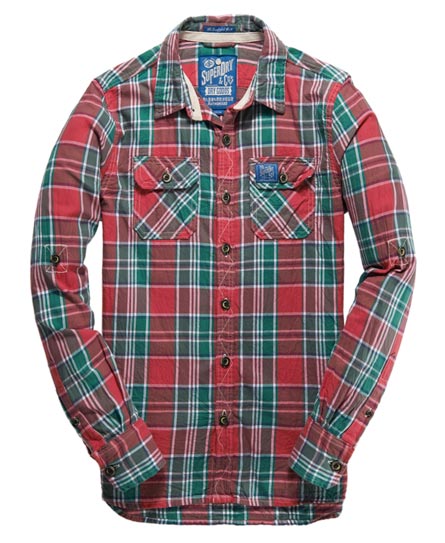 Comments about Superdry Lumberjack Twill Shirt:
Really nice shirt, very comfy fit. However, bear in mind that Superdry shirts always come up small - this is the only brand that I have to buy XL for (I am not an XL, and have a fairly slim athletic build). Also, the website picture does not quite reflect the true colors of the shirt which is actually much brighter than it appears. Excellent quality nonetheless.
Sizing:
Feels Half Size Too Small
Sleeve:
Feels True To Length
Length:
Feels True To Length
Comment on this review